?Returns: Fast refund,100% Money Back Guarantee.
?Delivery Worldwide 10-20 days
?99.6% of Customer Recommends This Product.
Portable Floating Grill
This cool new Portable Floating Grill is a flip-resistant floating grill that lets you have a cookout anywhere on the water, from sandbars, lakes, and boating to even floating down a lazy river.


Heck, you could even be flipping burgers in the hot tub if you wanted to. It features a floating base with 3 built-in cupholders and 2 tow hooks, a portable propane grill with built-in ignition, a specially designed grease trap, and a dual latch locking lid, and it all comes apart for easy cleaning and storage. Check out this to see it in action handling some heavier waves with ease.
It's a must-have item for people who love spending time on the water because it solves a huge conundrum. It has an inbuilt igniter which means there is no need to carry a lighter or a matchbox.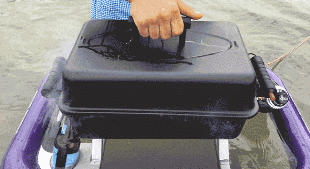 You can have a cookout anywhere on the water with the floating grill!
Every one of them is rigorously tested to ensure they cannot flip, so you don't have to worry about that.  It's a sustainable invention that is environmentally friendly. There is a removable grease trap that collects all the grease from the grilling, instead of letting it drain into the water. It can be easily removed and cleaned.
No worries about large waves that come by, as the floating grill is fully flip resistant!
Designed to be flip resistant and safe to use
The grill detaches for easy cleaning and storage
Engineered with materials that resist rust and fading
3 built in cup holders
Specially designed removable grease trap
2 tow hooks to tie it down or tow it along
Materials rated for high temperatures
Floating Base dimensions are 35in (L) x 22in (W) x 9in (H)
Grill dimensions are 22.5in (L) x 16.5in (W) x 11in (H)
What's in the box:
1x Floating base
1x Propane grill (propane tank not included)
2x Support brackets with hardware
Instruction manuals