Create your own mansion with these Connecting Cube tents.
These are quick pitch tents. One person can set up this tent in under 2 minutes.You can then secure it to the ground using the strategic loops on each side of the tent. You can collapse it for packing just as easily – simply push the side of the Qube in. 
These materials can guarantee a long service life while ensuring a perfect seal even in storms.Each tent is PU coated 4000 HH Rating and CPAI-84 Flammability treated. This, easy setup and infinite modularity make it a perfect tent for any terrain.You get a set of windows in each tents. But what is unique about them is the fact that you can simply "close" them at any time you want. So you can soundly sleep without the morning sun disturbing your slumber. It also comes with extensive ventilation which is always welcome in a tent populated by a bunch of people.
It only takes one minute to quickly pack and pack.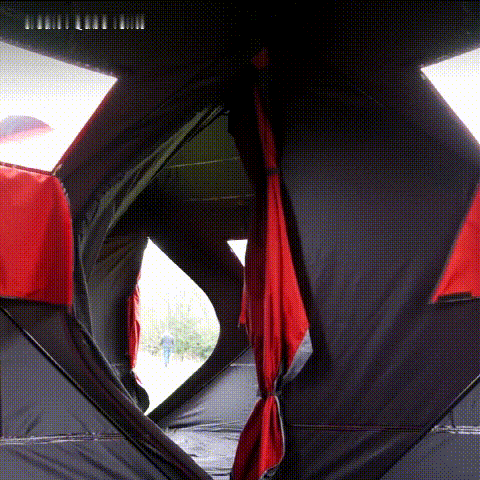 There are 3 models in various colors (red, blue, orange, green, black) and can accommodate 2 to 4 people.